Mayor Lee spoke about the benefits of the Central Subway today at a press conference in Chinatown.
The Central Subway will improve public transportation in San Francisco, create thousands of jobs and enhance the quality of life of residents and visitors alike. That's what Mayor Edwin M. Lee and other local leaders and community members said at a press conference today at the site of the future Chinatown Station, hailing the Central Subway as an essential and much-needed investment in the city's infrastructure and economic future.
"Once the Central Subway is built, this new light-rail extension will be an engine for job creation and economic growth in our city, connecting our vital neighborhoods and diverse communities," said Mayor Lee. "This important investment in our city's infrastructure will improve transportation options, reduce emissions and enhance the quality of life of residents and visitors."
Mayor Lee, San Francisco Municipal Transportation Agency (SFMTA) Board of Directors Chairman Tom Nolan, San Francisco Board of Supervisors President David Chiu and others gathered to unveil a decorative vinyl wrap installed at the site of the future Chinatown Station. The wrap, which features renderings of the station design, a mural provided by the Chinese Historical Society of America and artwork by students from the Chinatown YMCA, will protect and enhance the appearance of the now-vacant building at 933 to 949 Stockton Street until it is demolished later this year.
The building has been acquired by the SFMTA, and, with SFMTA assistance, all residential and commercial tenants have successfully relocated.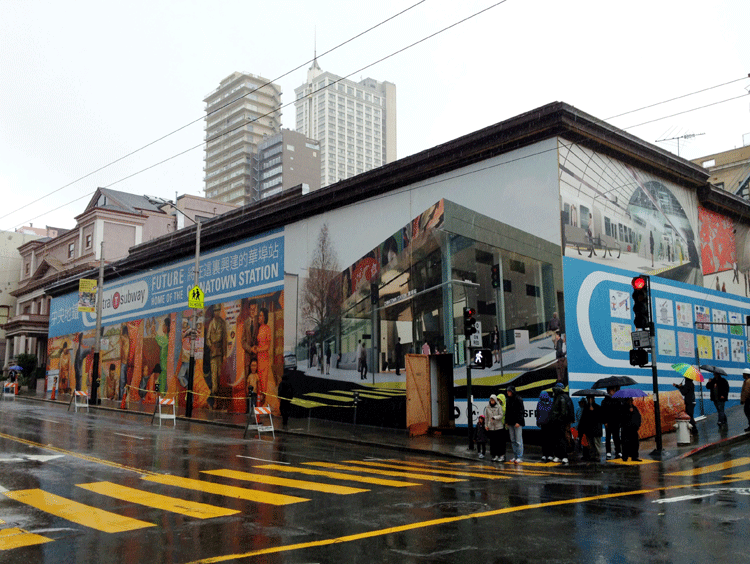 Top: 933-949 Stockton Street with the artistic wrap. Bottom: The building before the wrap was installed.
The station, a subway station to be constructed at the southwest corner of Stockton and Washington streets, will feature an open, contemporary aesthetic that emphasizes transparency and simplicity. Light-colored and reflective surfaces will maximize lighting efficiency and create a bright, welcoming atmosphere even when customers are below ground. Artwork selected through the San Francisco Arts Commission's Public Art Program will adorn the station and provide insight into local culture and history.

These renderings depict the design of the Central Subway Chinatown Station.
The Central Subway Project has achieved major milestones in recent months, and more progress is on the horizon this year:
To find out more about the Chinatown Station and recent progress on the Central Subway Project, check out this press release (PDF) from Mayor Lee's office.