To accommodate Central Subway construction, the Muni 8X Bayshore Express bus line will be re-routed in July. 
Starting Wednesday, July 11, the southbound 8X/8AX/8BX Bayshore Express and 91 Owl Muni bus lines will be re-routed to accommodate Central Subway construction in Union Square and SoMa. The re-routes may remain in effect throughout the duration of the Central Subway Project. Northbound service on these routes will remain unchanged.
The routes, which currently travel south on Stockton and 4th streets, will instead follow Mason and 5th streets through Union Square and SoMa. The modified routes will travel around construction activity, including tunnel preparation work and station construction, as the project progresses in these areas.
Ambassadors will be in the field from July 11 to July 15 to help Muni customers navigate the route changes. For more about the upcoming re-routes, including information in Chinese and Spanish, download the SFMTA's re-route brochure and check out this press release from the SFMTA.
The map below shows the new routes of the southbound 8X/8AX/8BX Bayshore Express and the 91 Owl: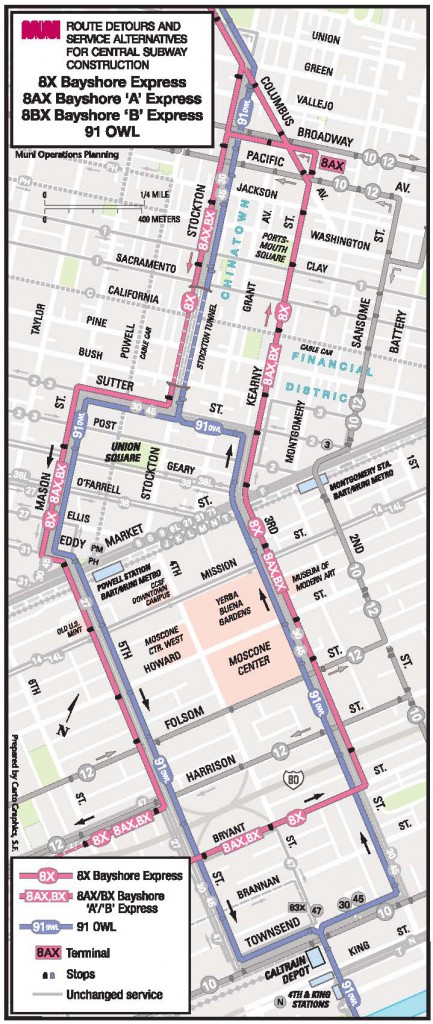 Earlier this year, the SFMTA re-routed the 30 Stockton and 45 Union/Stockton bus lines around Central Subway construction. These re-routes will remain in effect.