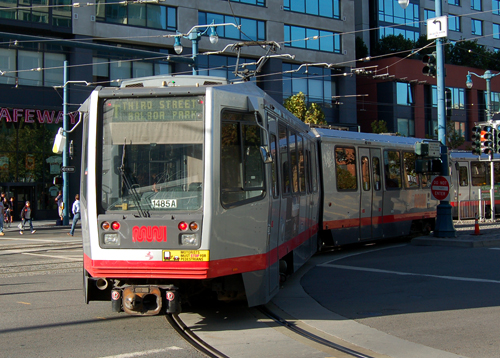 When the Central Subway is complete, T Third Line trains will continue straight at the intersection of 4th and King streets instead of turning right onto King Street.
The U.S. Department of Transportation recently awarded $85 million in federal funding to the Central Subway Project. The funding, from the Federal Transit Administration's New Starts program, was awarded following approval last month of the Central Subway's Full Funding Grant Agreement, the formal commitment of federal funding through New Starts.
"Today, San Franciscans sick of suffering the overcrowded 30 Stockton have something to celebrate," said Democratic Leader Nancy Pelosi in a statement last week. "Thanks to the signing of the recent Full Funding Grant Agreement, we can applaud $85 million in funding for the Central Subway – creating jobs, expanding public transit and bringing our city closer together."
The funds were included in the federal Transportation Appropriations bill for fiscal year 2012. In total, New Starts will provide $942.2 million to extend the Muni Metro T Third Line through SoMa, Union Square and Chinatown.