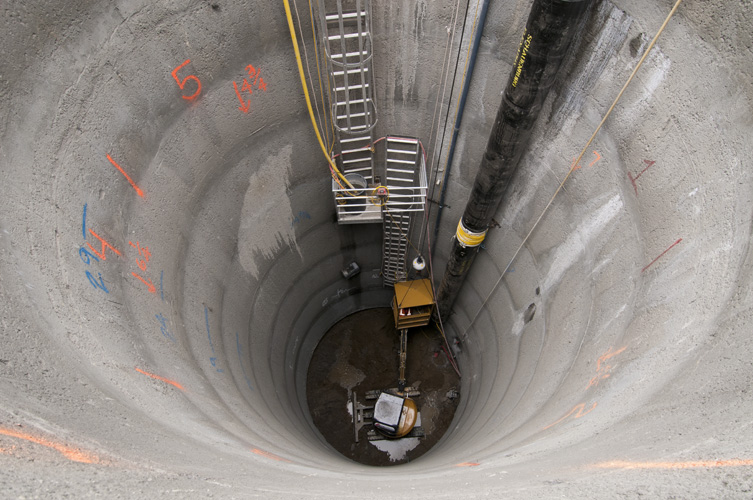 Crews are excavating a shaft on Ellis Street near where the Central Subway tunnels will pass beneath the existing BART and Muni tunnels. Crews will perform ground improvements here.
During the next 10 days, construction to prepare for tunneling will continue in SoMa and Union Square. No Central Subway construction is planned to occur in Chinatown or North Beach.
Descriptions of construction impacts in each neighborhood are available here or at the links below. We also post construction, traffic detour and Muni impact information on our project Google Map.
Construction impacts are planned to change at these locations by May 13:
Construction impacts continuing at all sites.
At these locations, current construction impacts are planned to continue until May 13:
Southern SoMa (Harrison to King/Berry): Full closure of 4th Street between Harrison and Bryant will be in effect some evenings and weekends while we lower parts of the tunnel boring machine into the excavation beneath the roadway. Two lanes of traffic will remain open on this block on at all other times. Please contact us at central.subway@sfmta.com if you have questions about the closure schedule. On Bryant Street at 5th Street, the left lane and several parking spaces will be closed for use as a staging area for tunnel boring machine installation.
Northern SoMa (Market to Harrison): On 4th Street between Market and Stevenson, the sidewalk and two traffic lanes will remain closed on the eastern side of the street. Two lanes of traffic will remain closed on 4th Street between Howard and Folsom.
Union Square: Stockton Street between Geary and Ellis will remain closed to vehicle traffic. Ellis Street between Stockton and Powell will remain closed to westbound traffic.
Chinatown: No construction planned
North Beach: No construction planned
We appreciate your patience and support while we build this essential upgrade to San Francisco's public transportation system.