Father John Takahashi and Central Subway Program Director John Funghi stand beside concrete blocks that once formed the foundation of a historic North Beach church.
Earlier this month, construction crews demolishing the Pagoda Palace unearthed a long-lost piece of San Francisco history: the foundations of a church that stood on these grounds more than a century ago.
The Holy Trinity Orthodox Cathedral, now located at 1520 Green Street, once stood in North Beach at the corner of Powell Street and Columbus Avenue. Built in 1888, the dramatic onion-domed structure was completely destroyed by the great San Francisco earthquake and fire of 1906. All that remained were five bronze bells – and they survived because they were off site at the time, being repaired. The church relocated to the Green Street location soon after, opening in 1909.
Last week a concrete block from the old church's foundations joined the bells at the Green Street cathedral. After construction crews unearthed the foundations, we contacted Father John Takahashi, the senior priest of the Holy Trinity Orthodox Cathedral, to inform him of our discovery. We also invited him to visit the construction site and see the newly uncovered relics of his church's past.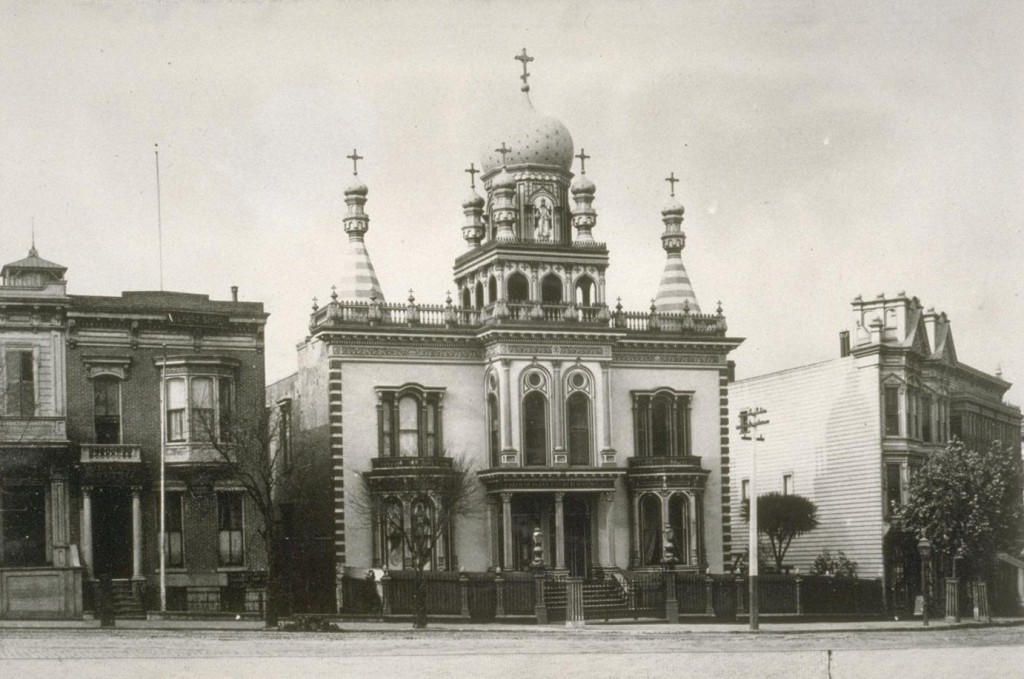 The Holy Trinity Cathedral on Powell Street, circa 1890.
Once on site, Father John spoke with Central Subway Program Director John Funghi, and the Central Subway team gave Father John a block of concrete from the old foundations. The block will now live in the garden of the Green Street cathedral.
Central Subway crews discovered the historic foundations while dismantling the thick concrete slab that formed the base of the Pagoda Palace Theatre. Once the slab was removed, the outlines of the foundation revealed themselves amidst dirt and rubble.
Archeologists and construction personnel examined the unearthed foundations and concluded that they were consistent with building practices in the late 19th century. The absence of rebar, the consistency of the concrete and the size of the aggregate in it helped support this conclusion.
With a piece of the old church now safely preserved, crews then broke apart what remained of the foundations to make room for the next phase of Central Subway construction, and the next chapter in the life of this storied North Beach site.